ASFB Fisheries
Catch & Release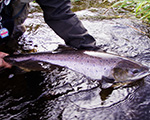 During 2010, anglers caught over 110,000 salmon and grilse. 70% of these fish were released, to aid conservation and support the conservation and management work of the DSFB's and Trusts
Featured Fishery
Located four miles downriver from Huntly, Coniecleugh Beat is some two and a half miles long and mainly double bank with 20 named pools. This is a four rod beat normally fished on a two-up, two-down basis with a change …
Scotland is renowned worldwide for salmon fishing
Contrary to popular belief, much of the available fishing is accessible at modest cost, and there is fishing available to suit anglers of all ages, ability and financial means.
Our aim is to highlight this affordable and accessible salmon and sea trout fishing in Scotland.
The cost of some salmon fishing will always be expensive, and this often leads people to believe it is exclusive and unavailable to most. However, just as you would expect to pay more to watch a football team in the Champions League Final, than you might in their domestic league, the same principle applies to salmon fishing.
Please remember that our site is not a commercial marketing tool for individual fisheries, nor is it a place to purchase permits.
It is intended to provide facts and help guide anglers to good value fishing availability where there is a realistic chance to catch a salmon. We hope it will help you make an informed choice. We also hope that it will highlight, in a national sense, that salmon and sea trout fishing is an activity that can be enjoyed by all.