Fisheries
Catch & Release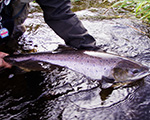 Anglers now release 90% of salmon which form the total rod catch in Scotland. This supports the conservation and management work of our member DSFBs & trusts. Read the latest advice on best practice catch and release
HERE
Featured Fishery
The Newmilns stretch of the River Irvine is approx 2 miles long and has around 30 pools/streams that are ideally suited to fly fishing, although spinning and worm fishing is allowed too. the stretch has been lightly fished in the …
Scotland is renowned worldwide for salmon fishing
Contrary to popular belief, much of the available fishing is accessible at modest cost, and there is fishing available to suit anglers of all ages, ability and financial means.
Our aim is to highlight this affordable and accessible salmon and sea trout fishing in Scotland. The cost of some salmon fishing will always be expensive, and this tends to distort the overall impression of availability and cost, and often leads people to believe it is exclusive and unavailable to most. However, there is a significant amount of very affordable fishing in Scotland.
Please remember that our site is not a commercial marketing tool for individual fisheries, nor is it a place to purchase permits.
It is intended to provide facts and help guide anglers to good value fishing availability where there is a realistic chance to catch a salmon. We hope it will help you make an informed choice. We also hope that it will highlight, in a national sense, that salmon and sea trout fishing is an activity that can be enjoyed by all.